Monroe County
A poetry collaboration by Judy DeCroce and Antoni Ooto celebrating the quiet tradition of a season.
About
An Upstate of Mind is a travel, food and culture magazine dedicated to the modern traveler in New York State.
Instagram



Tucked in the Catskills along a slightly death defying mountain road is the trailhead of Kaaterskill Falls, a Mecca for hikers in the know, and a jewel in the crown of New York State - the tallest two-tier waterfall in the Northeast. What I like most about the trail is that it's basically like the Parks Department has said, you know what, this is just one of those places where you might perish. Your children, your fiancé, your entire European family. This could be where it all comes to an end. But on the flip side !! :) it could be one of the most thrilling adventures you've ever set off upon. So you know what, just kinda keep to the trail - or the rock steps - or whatever this incredibly steep cobbled path is that leads you to the top. On that note, this is not a light hike that you hit on the way to brunch. This is like Last of the Mohicans on a stairmaster. And just when you get to the top, bristling with joy and accomplishment, you see someone repelling down the other direction just to do you one better. Props to this woman, whoever you are (see the last two photos). So grab your legit hiking boots and an early parking spot (also on said death defying hairpin turn) and get climbing, life insurance policy and all. #hike #hiking #catskills #catskillsmountains #waterfall #waterfalls #kaaterskillfalls #statepark #newyorkstate #hudsonvalley #upstatenewyork #greenecounty #mountain #mountains #moutainclimbing #hiddengem #hiddenplaces #woods #nature #outdoors #roadtrip (at Kaaterskill Falls)
https://www.instagram.com/p/Bnw1hVWhS1d/?utm_source=ig_tumblr_share&igshid=1cc4wqnt60zf3




If you know me, you know I'm into scones, and this place does them like no one else. Soft scones. Yes, I know they're supposed to be dry and bisquity and British, but give these a try and tell me if you aren't won over. @blueberryhillmarketcafe1 #newlebanon #bakery #brunch #brunchspot #hudsonvalley #berkshires #blueberries #roadtrip #wakeupcall #upstateny #upstate #upstatenewyork #columbiacounty #food #bakedgoods #scone #scones (at Blueberry Hill Market Cafe)
https://www.instagram.com/p/BneByIGB9wS/?utm_source=ig_tumblr_share&igshid=t56cmtx3dish




Lovely discovery just north of Albany in the little hamlet of Vischer Ferry. @vischerferrygeneralstore Beautiful general store & lunch spot. One of the best grilled ham & Swiss sandwiches I've ever had. And we pretty much cleaned out the baked goods case. Comfy screened in back porch with a free library basket perfect for a rainy day. PS @erinrubydesign vouches for the breakfast sandwiches - "One of the best I've ever had. And the peanut butter cookies are super legit." #vischerferry #generalstore #albany #albanycounty #upstateny #mohawkvalley #mohawkriver #hudsonvalley #upstate #newyorkstate #lunch #brunch #lunchspot #brunchspot #roadtrip #vintage #reclaimed #design #interiordesign #upstatenewyork (at Vischer Ferry General Store)
Upstate NY Vacation Rentals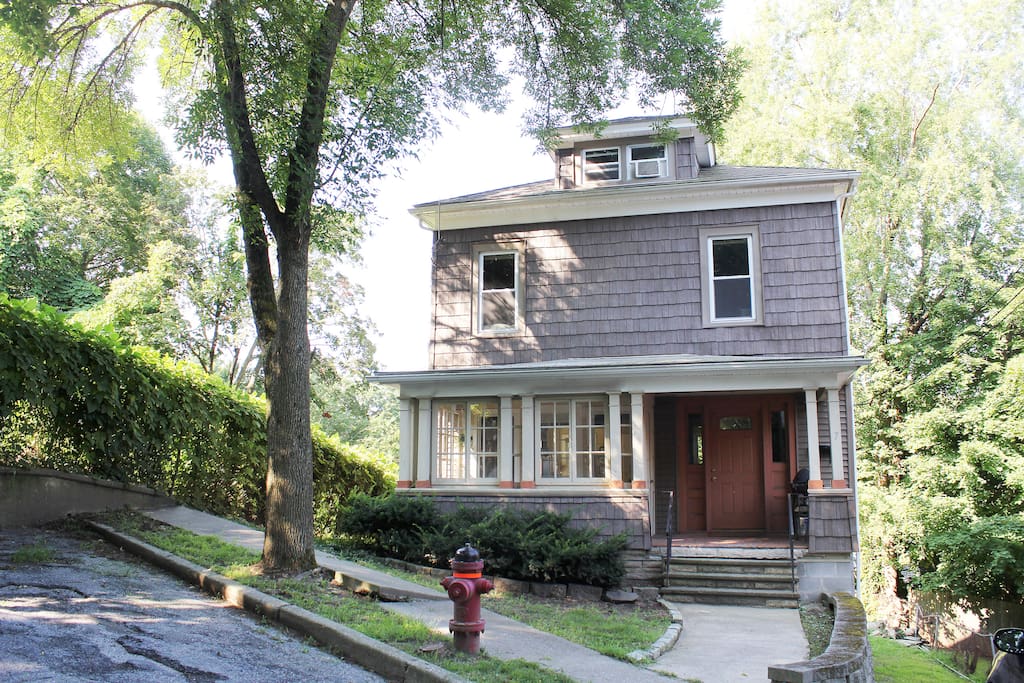 Charming Hudson Valley Haven
Poughkeepsie, NY, United States
Relax in a tastefully-appointed early 1900s Craftsman home. Beautiful natural light, three guest rooms, views overlooking College Hill Park, living room, dining room, sun porch, and large kitchen. ...
A Letter from the Editor
"Upstates" are everywhere. All over the country, all over the world. If there's an Upstate near you, you'll know it, because you'll be drawn there. You'll pack some clothes, a book, a journal, a camera – and you'll get in your car, on your bike, on a train, and venture off into the outskirts. For no reason at all. Simply because what's out there is inside you. It is the north to which your compass points.
Read More >